Dental implant is the key to smiling your brightest again, by giving you permanent restorations for missing teeth, without the inconvenience of dentures. There is no more worrying about speaking, eating, or laughing with bad or missing teeth. No more embarrassment of having a denture slide around or fall out. No more aches and discomfort from ill-fitting prosthetics. With a permanent restoration you can smile confidently, knowing that your new teeth can literally last for a lifetime. 
The American Academy of Implant Dentistry states: "Dental implants are the closest you can get to healthy, natural teeth. They allow you to live the way you want to – confidently eating, smiling, laughing, talking, kissing and enjoying all of your everyday activities without worrying about your teeth."
On this page:
What are Dental Implants? | Who are permanent teeth for? | Why | Procedure | Aftercare | All on four | Same day | Cost
What are Dental Implants?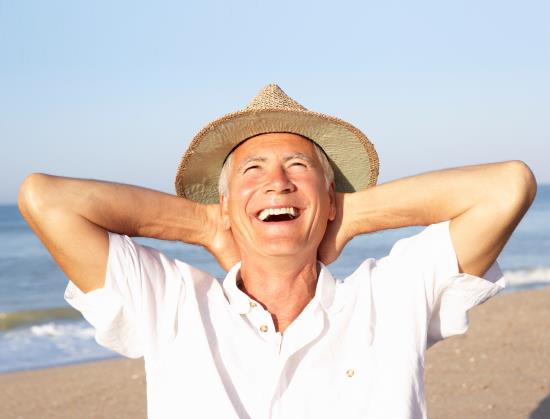 Dental implant, or endosseous implant, is a titanium rod or screw of differing diameters and lengths that is placed in the jaw. This is done by an expert who specializes in this process, using advanced diagnostic and surgical protocol, usually causing little to no discomfort for the patient. Once inserted, they will heal and integrate with the jawbone in a process called Osseointegration. Once firmly embedded in the jaw, about three to six months, then the crown is placed. 
Teeth implants can support even a full mouth restoration with permanent dentures or an overdenture. An entire upper jaw restoration, for instance, can be done easily without a lot of time to complete the process. Among the treatments available for this need, Artificial root restorations have proven to have the highest success rate as well as being safe and long lasting. They are favored because they look and function just like natural teeth and, with good dental care, they can last a lifetime.
Schedule an appointment if you're in or near Lake Elsinore, CA.
Are they right for anyone?
Potential candidates should have good overall

Oral hygiene

. 

Presence of diabetes or the patient taking other

systemic medication

does not necessarily rule out getting this treatment, but only as long as the condition is under control and doesn't lead to any

Oral or maxillofacial surgery

risk. 

Candidates should have sufficient jawbone density; if not

a Graft

can be performed at the potential surgical site. Sometimes, a

Sinus lift

may be necessary to make room for

Bone grafting

in the upper jaw. 

Candidates should be free from any kind of

Periodontal disease. 

Candidates should not smoke, or at least be willing to give up smoking, especially during the Osseointegration period (when the artificial roots are fusing with the jaw)

Candidates should be of good overall health. 

Candidates should be committed to maintaining healthy lifestyle habits, a good oral hygiene regimen, and routine

Post-surgical

visits and

consultations

. The

American Dental Association

 advises that

"careful Oral hygiene is essential for the success of the Dental implant.
Why is a Tooth implant needed?
Tooth loss can affect both the function of chewing as well as facial appearance.

Patients

affected by tooth loss or tooth decay are good candidates for the procedure.

Denture patients who are weary of the limitations of dentures, espcially with eating and speaking, are good candidates for these restorations.

After teeth fall out or are pulled, the bone naturally begins to resorb. A tooth implant mimics the stimulation provided by natural tooth roots thereby helps in preventing resorption.

The surrounding teeth can be affected by the gap left from a missing tooth as it leads to shifting of teeth thereby making them more vulnerable to fracture and cracking.

They will prevent

supra-eruption

of natural teeth in the opposite arch due to absence of antagonist teeth.

Dentures are not the most effective way of preventing shifting or sunken cheeks.

The new Dental implant will also improve appearance of the face, speaking, and eating abilities, leading to a better quality of life.
Not recommended if:
Presence of certain medical conditions, like heart disease, that may create serious

Post-op

complications during surgery

Currently undergoing any treatment for cancer or certain bone diseases

Following certain

Immunosuppressive drug

for any organ transplant

Not recommended for children since their jawbones have not yet fully developed.
Procedure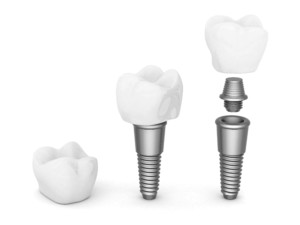 Step 1: Dental implant surgery requires that either one or multiple titanium posts, depending on the number of teeth being replaced, are inserted into the jawbone using pressure controlled drills. Sometimes, the specialist may opt for Platform switching, which is using thinner diameter implants, to preserve Alveolar bone levels around the posts. 
Step 2: Occasionally, there may be some preparatory procedures required before new artificial roots can be placed. For example, if a person has a deficient jawbone, a graft may be necessary to add density for a strong base for the placement. Grafting does affect the timeline as it will be necesary to wait 6 to 9 months for healing.
If grafting is not feasible, such patients may have the choice for Mini dental implants which are thinner in diameter than conventional ones. Due to their smaller size and shape, they can be placed in a smaller amount of bone.
Step 3: The patient then goes through a healing period of about 4 to 6 months. This is to allow bone and gums to fuse around the replacement tooth and artificial root in a process known as Osseointegration.  During this recovery phase there will be several appointments with the Implant specialist to assess the overall healing of the surgical site. 
Step 4: The lab, using CAD/CAM dentistry technology, will fabricate a custom restoration. This should be ready to place upon the abutment as soon as the area is completely healed. Once the new crowns or restoration are placed, the patient will have a beautiful smile that can last a lifetime with proper care.
Aftercare
Any discomfort

should subside within the first 24 to 48 hours. 

Healing time can be assisted with pain medication and moist heat. 

Eat a soft diet for the first few days.

Avoid strenuous physical activity for the first few days as well.

Use a soft-bristled toothbrush, with gentle strokes, to avoid opening up the sutures.

Use a special mouthwash to help eliminate oral bacteria. 

Rinse your mouth with warm salt water several times a day.

Once the gums have fully healed, care for your restorations just as you would for natural teeth. You should brush them at least twice a day and floss at least once. 

Special brushes and floss can help clean the hard-to-reach sides of your restorations. 

Schedule, and keep, routine exams and cleanings. 

With proper aftercare and hygiene, your new restorations could last the rest of your life.
All-on-4 dental implant
This treatment replaces all of the teeth on an upper or lower jaw, or both, with a permanent, bridge or denture atop at least a minimum of four implants. Thus the name All-on-4.  The specialist inserts the four implants into the arch, and the dentures are then secured to them. Although the process of osseointegration will take some time, the patient isn't without their teeth. Many patients who have used removable dentures have chosen to replace them with implant supported dentures. 
Same day dental implant
Unlike the conventional type that can require weeks between when the implants are placed and the crowns are put on, Same day restorations can be done in one appointment. This means that patients can start enjoying life immediately, like smiling, speaking normally, and even eating their favorite foods again. You don't have to live a single day without teeth. 
Discover same-day dental implant near me
Dental implant cost
The price varies, based on factors such as which tooth, how many teeth to replace, materials used, the skill level of the specialist, and mote. Because this life-changing treatment is the closest you can possibly get to having your natural teeth, the Cost is more than worth it. It is crucial to find an expert that is convenient to you, to save you time and travel in getting to your appointments. Choosing the right one who is not only near Lake Elsinore CA but also has the expertise and skill is crucial for a successful treatment. Keep an eye out for someone you feel comfortable with and who has good reviews with photos of real patients.
Dental Implants in Lake Elsinore with skilled experts offer all of these to our California neighbors, plus we accept most PPOs and HMOs, work with lenders like Care Credit, and better yet, we offer our own interest-free, in-house payment plans.
"dental implants" – Elsinore Smiles
At Elsinore Smiles, our number one priority is your Oral health. We want to be a part of your success and happiness, and give you the smile you deserve, in a comforting environment. Our caring team of dentists and staff near you are skilled and knowledgeable of Preoperative and Post-op implant care, Periodontics and Dental care, ensuring the best outcome and a speedy recovery for your brand new, gorgeous smile.